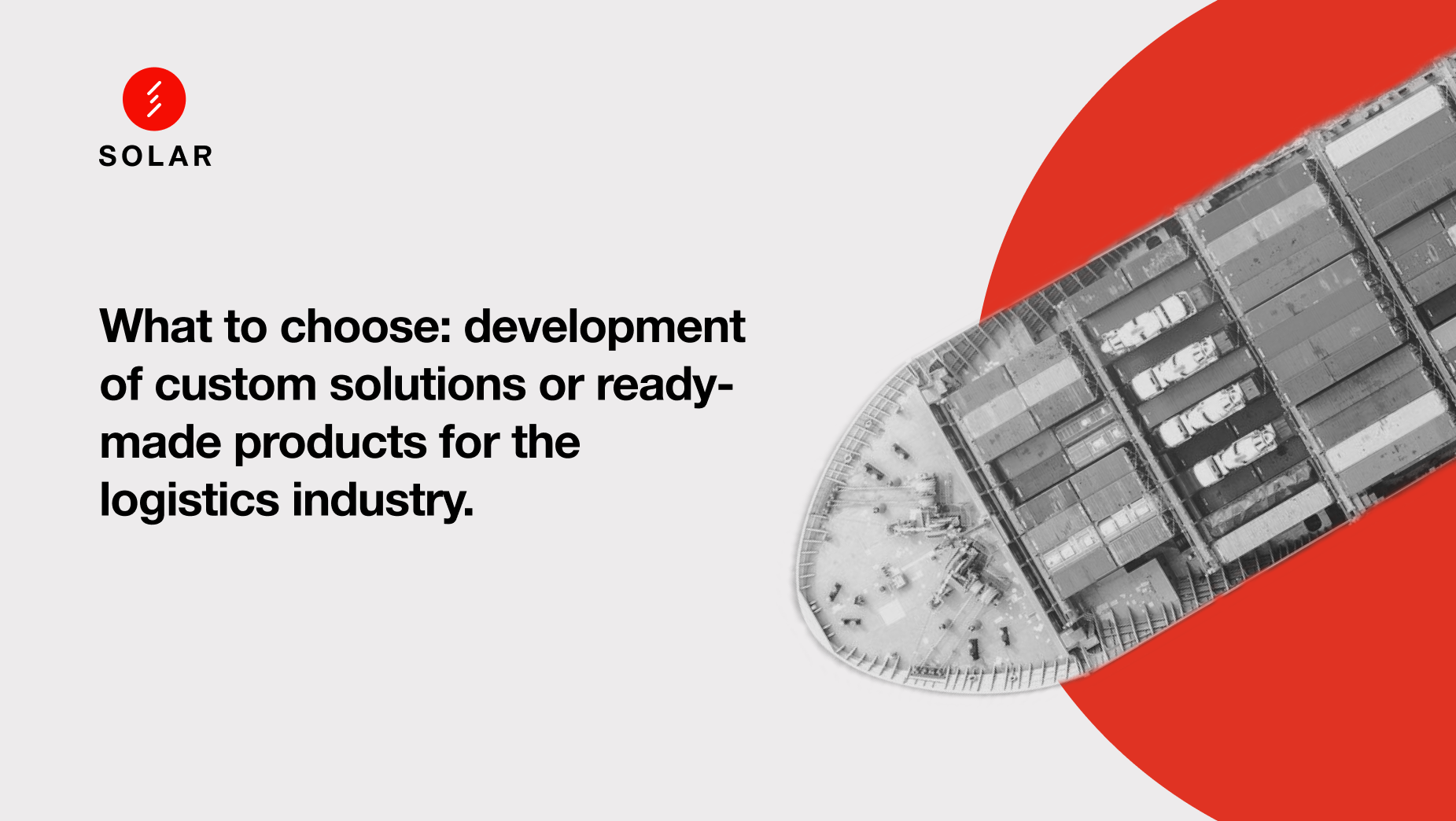 In today's fast-paced and interconnected world, companies across all industries, including the logistics sector, face high demands and requirements. The logistics industry, in particular, is undergoing significant transformations as digitization revolutionizes various processes, ranging from storage and delivery of goods to transportation management. As a result, logistics companies must invest in software solutions that can effectively handle their operations, including warehouse filling, transportation management, finance operations, and data processing, among others.
While there are numerous ready-made solutions available, many companies still prefer to invest in developing custom logistics software for their business needs. This article aims to highlight on the comparison of custom logistics software vs ready-made solution, show the advantages and disadvantages of each approach, and generally of benefits of digitizing logistics operations.
How digitalization is transforming logistics
Digitalization of logistics is a holistic transformation that impacts all aspects of the industry. Numerous companies are utilizing digital solutions within their logistics operations in order to maintain a competitive advantage in today's highly unpredictable market.

As stated in a report by GlobeNewswire, the digitalization of the logistics supply chain market was valued at $11,794.24 million in 2019. It is projected to experience significant growth, doubling to reach $23,607.06 million by 2027, with a compound annual growth rate (CAGR) of 8.5% from 2020 to 2027. This growth can be attributed to the instability and disruption of supply chains caused by the Covid-19 pandemic.

The core logistics areas that undergo digitalization are:
Inventory management allows managers to easily track inventory using technologies like Barcodes, RFIDs, or QR-based systems. In addition to real-time tracking, it provides extra information on each item such as its value, status, and condition. By using inventory management software, businesses can optimize costs, improve delivery times, and stay updated on the current state of their inventory.
Transportation can be a challenging task for companies to manually track all shipments. Transportation management software simplifies fleet management, making the process less labor-intensive and prone to errors. Vehicle tracking management software also helps logistics companies calculate the most efficient routes for fast and cost-effective delivery, as well as create multi-channel shipping routes.
Supply chain management enables businesses to control and manage the flow of goods and materials from the point of origin to end-users, eliminating the need for intermediaries and reducing costs. Companies can track the entire production-shipment-distribution chain of their products and share this data with consumers, improving product transparency and customer satisfaction.
Order management software provides businesses with up-to-date information on stock and transport load. It automates the order tracking and placement processes for both the company and its business partners. This optimization of resources allows companies to provide clients with the latest information on products, transportation, storage space, and more.
Warehouse management is an essential feature for some businesses. It consolidates all tools related to warehouse management in one place, helping companies optimize their warehouse operations. These tools can include price customization, quick invoice creation, notifications, barcode scanning, improved packing, and more.
Effective logistics management often includes functionality to streamline routine processes. This can include automation of billing, transportation and warehouse documentation, visual tracking of manufacturing and transportation stages, seamless integration with other software, data sharing between departments, and more.
Data analysis plays a crucial role in logistics as it allows companies to identify areas for improvement and optimization. Many businesses use data analytics apps to enhance scalability, efficiency, and revenues. With data analysis capabilities, companies can analyze their internal logistics processes, track trends and patterns in their supply chains, and predict market demands and behavior.
Pros and cons of ready-made logistics solutions
There are cases and types of businesses where finding the necessary solution is much simpler and more convenient with ready-made logistics software. Such solutions are used in projects with low or limited budgets. Let's take a closer look at the advantages and disadvantages of ready-made software.

Advantages ready-made logistics software:
Quick and convenient implementation. Pre-packaged solutions are readily available for immediate use, requiring minimal technical expertise. If you require basic functions, such as accounting software, opting for a ready-made solution is a sensible choice.
Continuous updates from developers. This means that businesses can access new features and improvements after purchasing the software.
Minimum budget cost. When you choose a ready-made logistics software, the cost of software development is already factored into the price, saving you cost.
Simplified integration available. Off-the-shelf logistics software is compatible with a wide range of business processes, making it easier to integrate into existing systems.
Challenges with ready-made logistics software:
Limited customization options. Ready-made solutions typically come with built-in features designed by the development company for general purposes. Customization options are often not available, and any new features are only accessible through updates.
Additional expenses, because extra extensions and features may come at an additional cost. In certain cases, you might require the assistance of specialists to modify the software for specific operations.
According to experts, ready-made solutions are more susceptible to hacking. They do not have such a security and testing system because such programs are developed with limited budgetary investments.
Constrained customer assistance. Many providers offer limited access to their customer support service, which can hinder the timely resolution of issues.
When it comes to exploring different options for logistics management software, many companies often begin by looking at the ready-made solutions that are readily available on the market. However, as their business expands and the demand for logistics operations grows, these off-the-shelf software options gradually become less popular. They require additional effort to manage and synchronize, which can be a challenge.

Pros and cons of custom logistics solutions
Larger projects with custom requirements and customized structures cannot depend solely on ready-made options. They need more tailored and comprehensive solutions to meet their high demands.
In its turn, custom software development for logistics offers a range of valuable advantages that make it an ideal solution for any business, from startups to enterprises. To provide a comprehensive understanding, let's explore all the benefits and challenges that exist when it comes to custom logistics software development.
Benefits of custom logistics software:
Exceptional scalability. Custom-built logistics software can be easily scaled horizontally and vertically, or upgraded with the latest IT technologies such as Artificial Intelligence (AI), Virtual and Augmented Reality, Internet of Things, Blockchain technology, and more. These innovations drive transformation in the logistics industry, enabling companies to remain competitive in the market and preventing software from becoming obsolete.
Compliance with requirements. By choosing a custom logistics development company, you can incorporate any functionality required to handle your logistics processes, even if they pertain to niche markets or products. Additionally, you can develop logistics applications that are compatible with any software used by your clients and customers.
Enhanced security. Custom software provides a more secure option as cyber criminals would need to learn how to hack the specific app's source code. Furthermore, companies can always enhance their solutions with additional security measures such as two-factor authentication, limited data access based on company departments.
Ownership of the software. You have complete control over the software, eliminating the need to rely on third-party decisions for any necessary changes. You won't have to worry about paying extra for subscriptions or additional features, as these are all included in the software.
Cost-effective solution for the future. Investing in custom software development can be a cost-effective solution for long-term growth. By tailoring the software to your specific needs, you can ensure it aligns perfectly with your company's goals and processes. This strategic investment can lead to sustainable growth and improved efficiency in the future.
Challenges with custom logistics software:
High resource consumption. One of the primary drawbacks is the substantial resource consumption associated with custom-built systems. To ensure successful implementation, it is vital to form a skilled team of developers. The deployment of the final product can range from several weeks to several months, depending on the complexity of the project.
Initial investment required. When comparing the costs of custom and ready-made solutions, the former tends to be more expensive. However, this higher cost is often justified by long-term benefits and tailored functionality.
Conclusion
The logistics industry is undergoing a significant digital revolution. This revolution enables companies to enhance their logistics operations, resulting in increased automation, streamlined processes, faster delivery times, and reduced errors. As a result, businesses operating in the logistics sector often face the decision of whether to opt for ready-made software or develop a custom software solution.
While ready-made logistics solutions can serve as a quick solution to a problem, they are primarily suitable for companies with limited budgets and time for integration. Investing in a custom logistics software solution provides a long-term business process solution that will keep your company running continuous and efficiently. By tailoring the application to their specific needs, businesses can maximize productivity and adaptability, resulting in sustained success in the ever-evolving logistics landscape.
At Solar Digital, we offer a wide range of custom logistics software development services designed to advance businesses in their respective industries. Our team of experienced developers strives to meet your unique requirements with utmost precision. Our main mission is to give our clients the opportunity to expand the boundaries of success.