Apple's newest operating system for iPhones and iPads, iOS 11, is finally out. As Apple CEO Tim Cook said on stage at WWDC, the update takes the best and most advanced operating system and turns it up to 11. And there are at least 22 new and upgraded features in the new iOS:
A swipe down from the top of the screen reveals your notifications, just as it has for some time now. However, the Lock Screen is now where notifications are displayed. It's confusing, mainly because it looks just like your lock screen, but it's not the lock screen. And on top of that, only a couple of notifications are displayed unless you swipe up to view older alerts. It's weird and will take some getting used to.
Highlight and then press a word or highlight the section to drag and drop it into other location. This only works within the same app and document on the iPhone, at least.
Apple is doing its part to eliminate distracted driving. Your iPhone can now detect when you're in a moving vehicle and can, if you want it to, automatically enable Do Not Disturb While Driving.
There are times when the best way to explain something is to draw a picture. When composing an email, long-press and then select Insert Drawing from the pop-up. Draw, sketch or play tic-tac-toe and send it on its way.
With iOS 11, Apple is finally moving the volume control that used to take over the screen when you were watching a video. Instead of showing a giant, annoying volume graphic, Apple tucked the volume indicator into a corner of the screen.
Apple is once again trying its hand at a social-oriented service with Apple Music profiles. The first time you launch Apple Music after updating to iOS 11, the app walks you through setting up your profile and privacy settings. In the future, you can find your profile and the same settings in the For You tab with a tap on your profile icon.
Instead of you're trying to capture a precious moment during a FaceTime call by taking a screenshot, iOS 11 will let you take a Live Photo of the call. The toggle is in Settings > FaceTime.
Tap the new shutter button while on a FaceTime call to take a FaceTime Live Photo.
The Apple Watch is no longer the only Apple device with an Emergency SOS mode. Your iPhone can now call local authorities and contacts of your choosing if you simply press the power button five times.
Depending on your preferences, which you can set in Settings > Emergency SOS, your phone will either prompt you to complete the call or will do it automatically.
You can now add a shortcut to the Notes app in iOS 11's revamped Control Center, and access the Notes from the lock screen.
Hidden in Settings > Notes is an option to select whether you want Notes to open the last note you edited, or if you want to create a new note every time you access Notes from the lock screen.
It's a small change, but the look of Apple's Handoff feature to open apps and web pages from a nearby Apple device has been slightly tweaked.
A new sharing option has been added to iOS 11. It's called Markup as PDF and it lets you do just what it says.
When viewing a web page, a photo or a file, tap the Share icon and select Create PDF. You can then use the iOS markup tool to draw, sign or add text to the document before saving or sharing it.
A new Accessibility feature does away with the need to talk to Siri. Instead, you can type to Apple's digital assistant.
Open Settings > General > Accessibility > Siri and toggle Type to Siri to the On position.
Now, whenever you hold the home button to activate Siri a keyboard will pop up for use.
If your power button breaks, you can still turn the phone off with a new Shut Down option in Settings > General. To turn your iPhone back on, you'll need to have a charging cable handy, as the iPhone will turn on the moment it's plugged in to charge.
Apple is using a new photo and video file format starting with iOS 11, but if you'd rather not mess with it or are running into compatibility issues, you can revert back to the older format.
Open Settings > Camera > Formats to set your own preference.
You can now decide whether you want apps to refresh the background based on your device's connection type.
Open Settings > General > Background App Refresh > Background App Refresh and select from Off, Wi-Fi, or Wi-Fi & Cellular Data.
The iPad's new app dock has a section that displays recently used apps, but if you're not a fan of the constant suggestions you can disable it.
Open Settings > General > Multitasking and turn Show Recents to Off.
Apple has added a one-handed keyboard option to the iPhone. There are two ways to activate it:
— Settings > General > Keyboards > One Handed Keyboard
— Long-press on the emoji or globe icon on the keyboard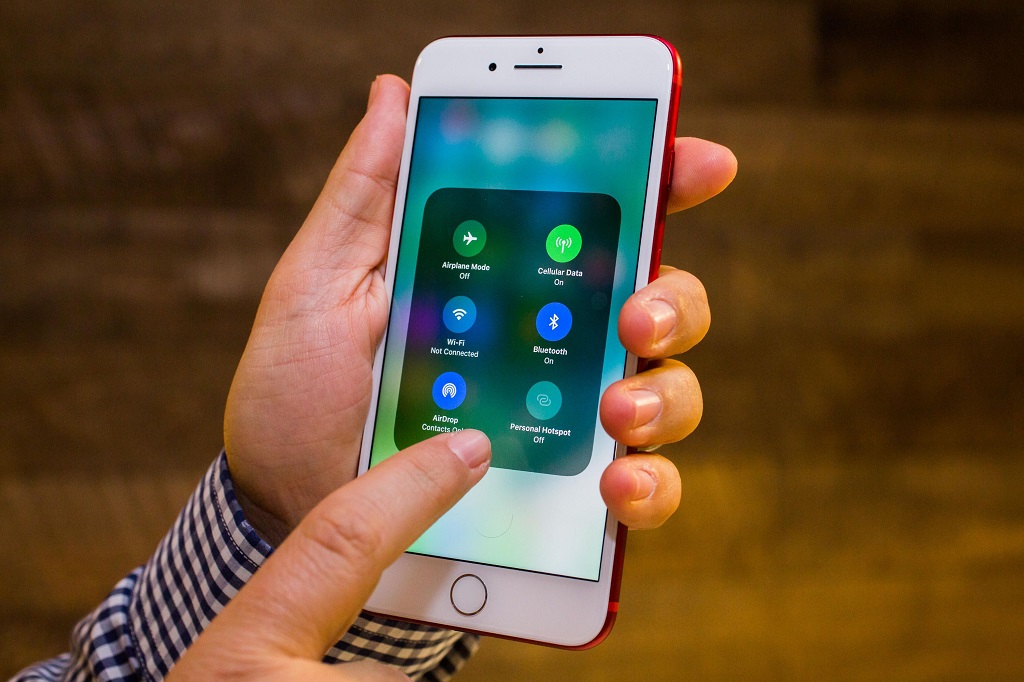 You can select a right- or left-handed keyboard, and switch back to a full keyboard either by following the same steps outlined above or tapping on the arrow placed next to the keyboard.
Instead of having to go through each and every app's notification settings to set your privacy preference, iOS 11 now has a universal setting for message previews.
Go to Settings > Notifications > Show Previews. There you can select the default setting for all apps.
When typing on the iPad's digital keyboard, you no longer have to press the shift or symbol keys to insert some special characters. Instead, you can press a key and flick down on it to insert the corresponding symbol on it.
For example, in this GIF, you can see the gesture used on the Q key to insert "11," and again to insert the "!" through the comma key at the end of the sentence.
Instead of mashing the Updates button to force your iOS device to check for updates, Apple has (finally) added pull-to-refresh.
When looking for previously purchased or installed apps in the App Store app, you'll quickly notice the Purchased link isn't readily available.
Starting with iOS 11, you'll need to open the App Store and tap on the profile icon where you'll find Purchased once again.
Taking screenshots of a FaceTime call to save a photo is no longer necessary. As of iOS 11, you can now capture a live photo of your screen during a call.
Both parties need to have the feature enabled for it to work. To enable it go to Settings > FaceTime > FaceTime Live Photos. Then the next time you're in a FaceTime call, just tap on the shutter button.