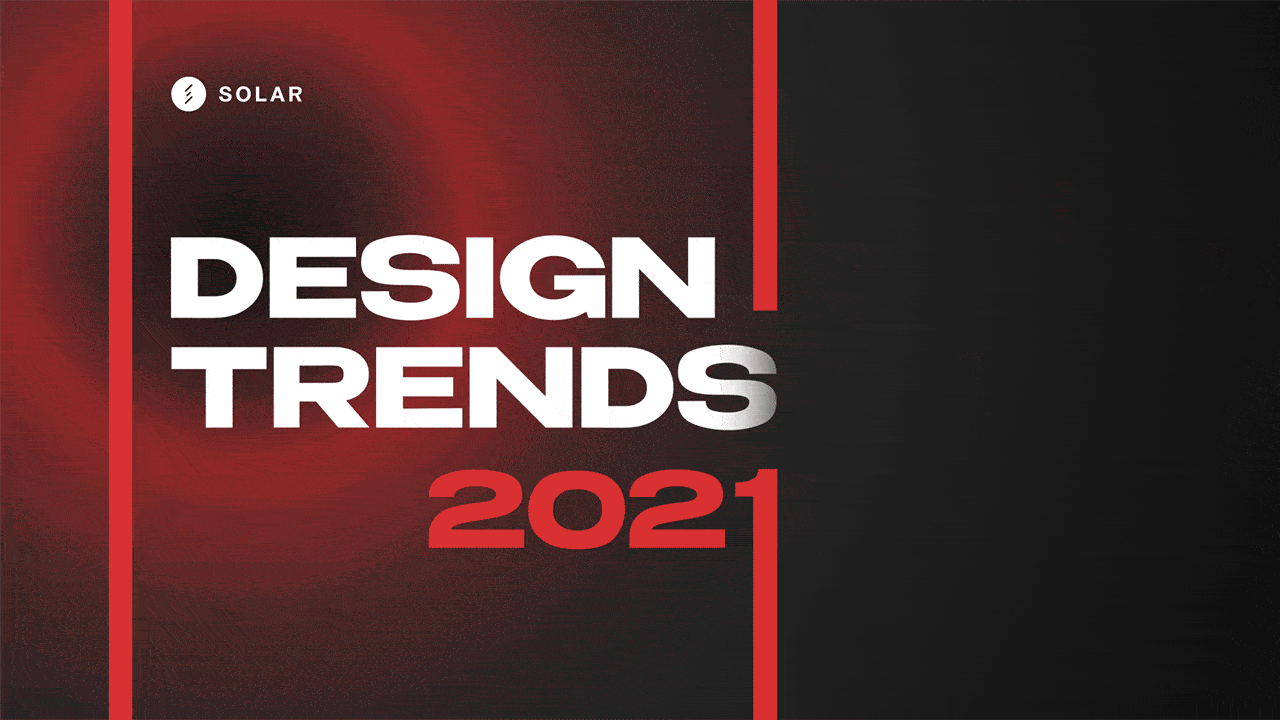 What will be design trends in 2021? We asked our designers to share their opinion and got the list of top-10 design trends, which should become very popular in 2021
1. 3D graphics
3D graphics have already become one of the main design instruments and 2021 is not an exception. We should expect animated 3d objects, look and feel realistic textures so what you may want to touch them. As an example our 3D virus for Odessa vs COVID-19 project.
2. Glassmorphism
The transparent frosted glass effect using background blur in web design is gaining traction. The high peak of the popularity of this technique is expected in 2021, before it will logically go down into the sunset (same way as skeuomorphism did, etc.)
3. Geometric shapes
Simplicity is the essence of genius. Circles, ovals, squares, lines, grids, etc. are not only the archetypes of modern graphics, but they are also relevant shapes for stylish designs in 2021. Let's see how skillfully Benoy branding awareness was added with just one geometric shape. And here is how we used this approach in the design of the online magazine "Mayak" about Odessa and its citizens.
4. Typography
Bold typography awaits us in 2021: large letters inside small shapes, sometimes these letters will even go outside the artboards. Particularly relevant are narrow or wide grotesque fonts or fonts with "character"
5. Illustrations
Illustrations are an essential part of graphic design year after year. The following will be relevant in 2021: 3D illustrations, bright 2D images with black outlines, craft sketches (sometimes in combination with photos), illustrations with gradients, noisy textures, etc. In the branding case for the Buddhapizza pizza delivery service, dated back to 2018, we used unusual illustrations that still evoke pleasant emotions among site visitors.
6. Emoji
Already, a little bit tired off it and is not in the first place in the list of "What could be so creative here", but it still remains a relevant trend in the world. Correctly executed and placed rightly it can be a stylish compliment or even the design basis. These are the informative emoji we used in the design of the Odessa vs COVID-19 website.
7. Organics
Plastic in a fish stomach, burned out forests, endangered species of animals — all these kind of hints humanity that nature must be protected. Many global brands and companies will continue to build their businesses more consciously and eco-friendly in 2021. Therefore, natural floral motifs, craft colors and recycled materials will become even more relevant than before.
8. Creeping line
From all the animation trends it deserves the special attention. It is a good receipt that will not disappear by the end of the year and will remain relevant for a long time to come. In the case of the redesign of the "Mayak'' news site, we used a creeping line for additional emphasis on an important thought not only in the articles themselves, but also for a more clear site navigation. In the branding for the event agency "Vizart", the creeping line plays an informing role without focusing on itself.
9. Voxel design
A voxel is a 3D cube, basically it is a 3D version of a 2D pixel. It is a recognizable style now and it is used in many games, like Minecraft. It looks modern and combines the appeal of retro style with the simplicity of children's games.
10. Dark Mode
Dark mode is a modern trend in graphic design used by many brands such as Apple, Mercedes and Sony. Dark modes help with eye fatigue, headaches and long term vision problems. The trend popularity is only gaining momentum. Many mobile techs recommend dark mode on OLED devices to conserve battery power.
We hope our selection of the top 2021 graphic design trends has inspired you to create stylish and funky designs. Trends are good, but designers are saying: "What turned out — that is fashionable".